December Athlete of the Month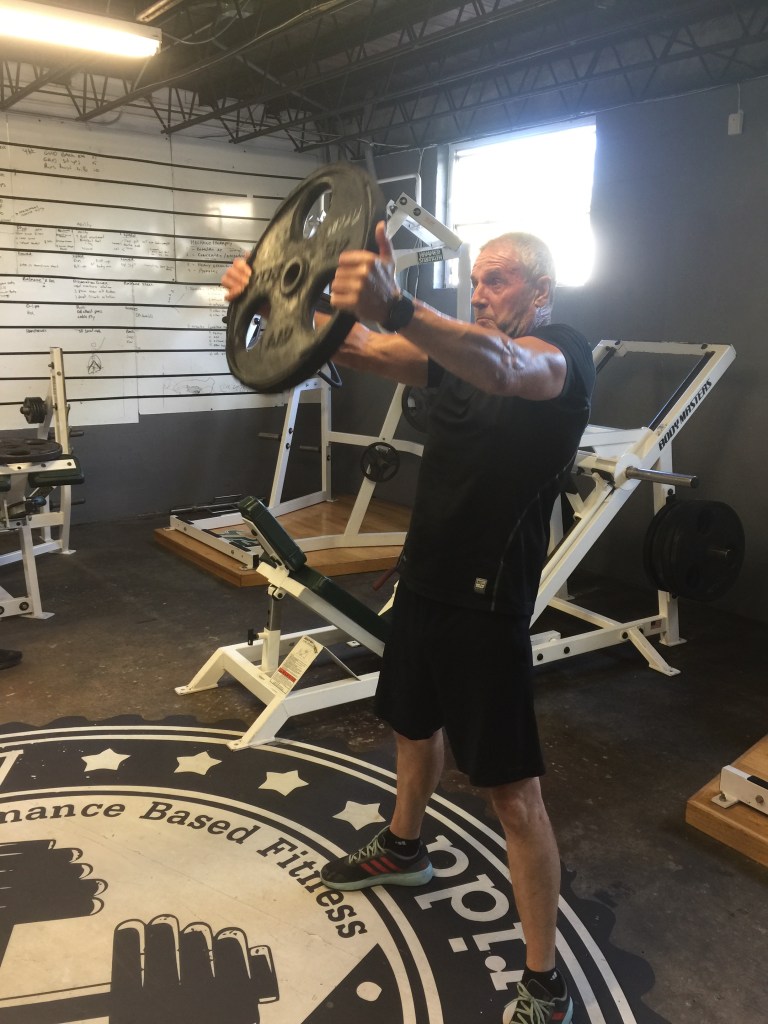 David Arrand
Meet our athlete of the month for December, David Arrand
David was a Fit Crew client before Fit Crew actually existed. He started out training with Andrew over eight years ago, and has been hooked ever since.
David is an animal in the gym; he doesn't give up, and when he's fatigued he still pushes himself to keep going- and it shows! He's also notorious for his sense of humor and great attitude.
Unfortunately, while this is a chance for many of you to get to know David, it's also a chance for us to say goodbye, as he is soon moving to Spain! Thank you for your dedication and time spent at Fit Crew, David. We'll miss you!
Tell us about yourself.

I was born in Manchester, England (home of Manchester City Football Club) a long time ago. After finishing college, I undertook a work-study, as well as two or three management trainee jobs in marketing. I ended up working in the ceramic and marble tile industry- first as a salesman on the road, and then as a sales manager. Eventually my wife, Gwen, and I decided to open up two of our own stores. After spending much time vacationing here in Florida, we decided that we should sell up and live here permanently. I'm proud to have been married to Gwen for 46 years. We have two grown up children and three grandsons.
When it comes to fitness, I've always been pretty active. I used to be a runner and a keen cyclist, but I don't do either anymore. Nowadays, I teach spin (I've been a spin instructor for over 10 years).
How did you get started at Fit Crew?
I've been hanging around gyms for too many years to count, blindly thinking that I knew enough that I didn't need a personal trainer. Then, I met Andrew Terman. This is when he was a trainer at a Lifestyle gym, before he and Niels formed Fit Crew. Andrew made me aware of where I needed to make changes in my body, and he has been helping me make those changes ever since. Our first session was over eight years ago! Looking back, it makes me wonder (and realize) how much different I would be if Andrew had not taken me under his wing.
What has been your proudest athletic moment?
My proudest athletic moment would have to be when Andrew finally got me to do a ring muscle up.
What is your favorite and least favorite movement/lift/drill?
My favorite movement would have to be chest or shoulder presses, while my least favorite is heavy barbell walking lunges.
What do you think makes Fit Crew different from other gyms that you've tried in the past?
The thing that makes Fit Crew stand out from other gyms that I have used or worked at, is the attitude that it has managed to generate amongst it's members; everybody understands that there is nothing in here that is going to be easy, and so everybody is working hard- harder than you ever see at other gyms. Because of this, everybody seems to constantly encourage and praise each other.
What do you like to do when you're not training at Fit Crew?
When i'm not at Fit Crew, I am either teaching spin classes or working on my rental property. If I'm not preoccupied with those two things then I enjoy relaxing with my other passion, playing guitar.
Tell us a fun fact that we might not already know about you.
Due to a misunderstanding between American vs. English accents, apparently I was the only employee of the former "Lifestyle" gyms to fail the mandatory sexual harassment exam. They made me take it again after they had given me the answers.