March Athlete of the Month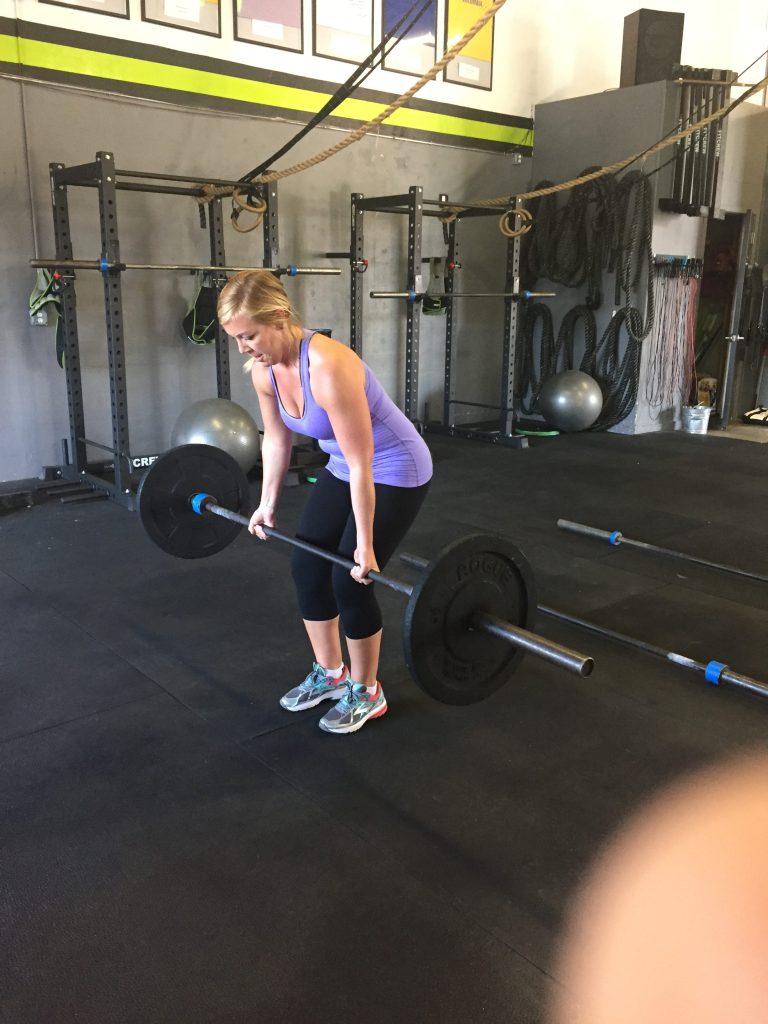 Amy Morris
Meet our athlete of the month for March, Amy Morris!
Amy has been with us just over a year now but she is a well-loved member of our Fit Crew Family. Known for her bubbly personality and positive outlook, Amy always has a smile on her face at the gym, shows determination, and is supportive of everyone around her. Our gym community is made up of individuals who are supportive of one another and have a common goal of wanting more out of life. Amy is a great example of this and we are proud to call her our athlete of the month. Congratulations, Amy!
Tell us about yourself.
I was born and raised in Jamestown, New York, a small town just below Buffalo, where most of my family still resides. I often tell people I am allergic to snow and that was the main reason I decided to move to Florida. I'm a newlywed, happily married to Richie Morris (most of you know him as the loud, funny guy… he's my rock). Currently, I am a special education teacher at Jessie P. Miller Elementary school, where I've taught for eleven years. I don't really have a lengthy athletic background, although I played soccer and danced for most of my childhood.!
How did you get started at Fit Crew?
My husband turned me on to Fit Crew. I was working out at another gym and not seeing the results I had hoped to see… hit a plateau. I have to say I was extremely nervous about coming to Fit Crew, as I knew nothing about weight lifting and was actually quite intimidated by the thought of it. My first session was very humbling, yet inspiring and I immediately felt welcome and feel in love (I remember saying A LOT of naughty words).
What has been your proudest athletic moment?
My proudest athletic moment is not the number of goals I've scored or pounds lifted, but a new found feeling of self-confidence and determination. The trainers at Fit Crew were primarily responsible for this, turning my "I can't do THAT" moments into "you WILL do that" moments and encouraging me the whole way through. I can honestly say that when I was approached with this recognition, I was sure they had the wrong "Amy," as there are way more "athletic" people in the gym than me. However, I come to realize that the term "athletic" encompasses way more than just the physical abilities. Determination, effort, time, self-motivation, willingness to try new things, and humility are a few qualities that come to mind. Each day is about making a better version of yourself. I am honestly very humbled by this recognition.
What is your favorite and least favorite movement/lift/drill?
Burpees and rope climbs…. Ugh. Seriously, every time I see the ropes down I want to run back to my car and leave!.
What do you think makes Fit Crew different from other gyms that you've tried in the past?
Fit Crew is by far a unique gym to be a part of! No one can deny that Fit Crew has the best set of trainers! They are talented trainers who pay attention, truly care, are knowledgeable, and continually learn new ways to push you. To me, Fit Crew also equals family. Walking in each time, I love being greeted with a smile by trainers and fellow Fit Crew members, who truly care about what is going on in my life or how I am feeling after yesterday's workout. It doesn't matter what class you're attending, it seems like everyone always has your best interest in mind. It is like a built in support system. There is also something to be said for surrounding yourself with others that have similar goals in mind (or maybe we are all just a little crazy)! I also love how each workout is completely different and more challenging than the last. It makes walking in exciting, because you never know what to expect! Lastly, Fit Crew is a gym where goals are accomplished and results are seen. With a staff that cares, that has similar goals, and is so knowledgeable about the way the body works, Fit Crew will forever be my gym! Fit Crew is one of a kind!
What do you like to do when you're not training at Fit Crew?
When I am not at Fit Crew I love to read, shop, be with family and friends, and visit the beach.
Tell us a fun fact that we might not already know about you.
Hmmmm… I would like to be a pilot when I grow up