June Athletes of the Month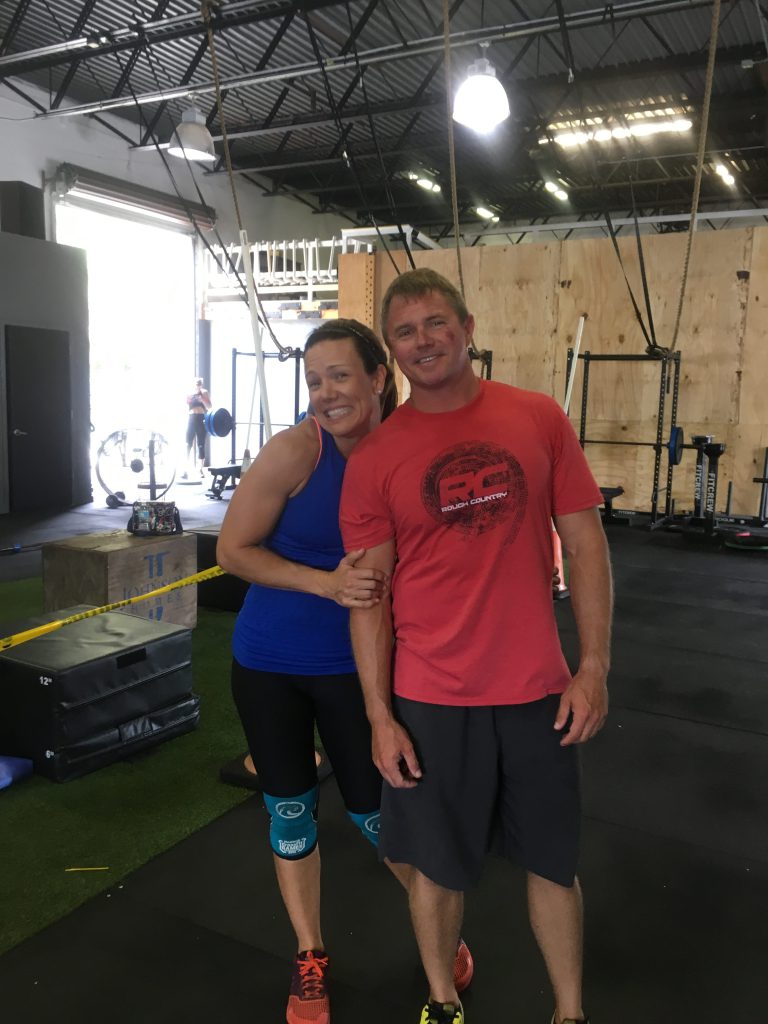 The Van Eerden's
Meet our Athletes of the Month for June, Brent and Robin Van Eerden
Congratulations to Brent and Robin, our first ever Athlete Couple of the Month. To say that they are a hard working duo would be an understatement. They both consistently come to train and always give it 100% when they are in the gym. Recently, Brent was the overall male winner at our super total competition while Robin came in second place out of the women. Brent and Robin are also a strong part of our community, providing support and encouragement to all of our athletes with a smile on their face and setting a great example for not only their own children, but all of our younger athletes.
Tell us about yourselves.
Brent: I was born in Grand Rapids, MI. My parents were very wise and moved my older brother and I to Bradenton when I was 5. I have lived here ever since and love it. My mom, wife, two of my sister in laws, and my brother currently come to Fit Crew. I have never really considered myself athletic, as I didn't play any sports growing up. Instead, my hobbies involved spending time on the water: skiing, fishing, diving. These are all things that I still love to do with my family.
Robin: I was born and raised in Florida with my parents and younger brother and sister. After high school, I went to Auburn University where I got my degree in Education. I taught for 5 years until we had our first kid–I've been "retired" ever since. I do however still use that pretty degree since I part-time homeschool our four kids.
Growing up, my brother and sister did well at sports. I, however, was not very athletic. I did not have a lot of coordination, though I did try my hand at some sports. It wasn't pretty, but I'm sure my parents were entertained.
How did you two meet?
Brent: I met my wife Robin here in Bradenton when I was finishing up college and when she was heading off to New York City for her masters (2000). She was working in a bank for the five weeks she was home and I was lucky enough that she said yes to going out with me (she was bored, but it really worked out for me). We were married the next year. We have four amazing children- two boys and two girls that I am sure you have seen around Fit Crew.
Robin: The summer after I graduated from Auburn, I was working at a bank here in town for a few weeks before I headed off to NYC for a Masters program–this is where Brent and I met. He came into the bank one day and ended up asking me out. I agreed to dinner with him (after i checked his account–JUST to make sure he was the right age for me). We went out that night, were engaged within five months, and married within the year. 16 years and four crazy children later here we are–and there's no place I'd rather be.
How did you get started at Fit Crew?
Brent: I started at Fit Crew after Daniel Kesten told me he went and really enjoyed it. After that first class, I was hooked. It took me a couple months of looking like death, lying on the floor of our house after a workout, to convince Robin to join me. It has been so much fun to see how she excels at this type of workout and how fit and strong she has become.
Robin: Brent started going to Fit Crew a couple months before I did. We had always worked out and did some "running" to stay fit (well, mostly so we could eat ice cream) and thought we were in decent shape. When Brent started going to Fit Crew, he would come home after the 5 AM class and lay out on the floor, drenched in sweat, telling me how great it was and that I should try it. It wasn't hard for me to say no to that- I didn't want to die. After about 2 months, I finally gave in and went, not by myself though. I convinced Patty Kesten to come along. I can't say it was love at first sight. I was so nervous and continued to be nervous EVERY time I went for at least a year. I kept going though!

What has been your proudest athletic moment?
Brent: I would say that my proudest Fit Crew moment isn't even about me. I love that my family loves it. My wife has accomplished so much more than she ever thought she could, and just keeps getting better at it. My kids love to run and exercise. They choose to come to the gym freely and do workouts. My girls get to see just how strong their mom is and through that, they enjoy training. They see that they can work hard and be strong and that is beautiful. As a husband and as a father this makes me very proud.
Robin: My proudest athletic moment…hmmm… Well, I really enjoyed participating in 2 competitions–the Buddy Brawl and the Super Total. Both of these experiences pushed me waaaaay out of my comfort zone, but it was so rewarding to push and see what I was able to do. I managed to get on the podium for both of them. I've been "ok" at things in my life(which is not a bad thing), but to have something that you feel like you're good at is pretty sweet. What makes me the proudest though, is being able to share this with our kids. We get to show our kids how fun it is to work hard and get stronger–especially our girls. They watch Brent and I work hard to reach our goals and they see how much fun we have with it. All 4 of them love coming to Fit Crew and working out–they want to be strong and healthy and this is something that will stay with them forever.
What is your favorite and least favorite movement/lift/drill?
Brent: My least favorite movement at Fit Crew are wall balls. Give me thrusters, give me sprints, I don't care! I just don't like wall balls. My favorite movement at Fit Crew is really anything under five reps. I know, I need to work on my cardio, but my goodness it hurts so bad.
Robin: My least favorite is anything with high reps. Really anything over 15 is miserable. Cardio is NOT my thing. I'm pretty sure there's not enough oxygen for me, and I hate not being able to breathe. What I do love doing these days is lifting heavy. I'll take a one rep max workout any day–there's plenty of time for me to breathe!
What do you think makes Fit Crew different from other gyms that you've tried in the past?
Brent: There are a few things that set Fit Crew apart. One of the most important is the "dysfunctional family" that you become a part of. There is such an amazing support system among the members that you just become friends in and out of the gym. Everyone wants to see you succeed and get stronger. The trainers have been amazing from the beginning, so supportive and willing to help in any way they can including personal training, recovering from injuries, and dieting.
Robin: What makes Fit Crew different from other gyms is the community and the people there. The trainers are honestly the best out there–they push us to our limits all while keeping us healthy. The other athletes/friends are amazing, and inspire me to push harder each workout. I can not imagine going anywhere else. Fit Crew is the best!
What do you like to do when you're not training at Fit Crew?
Brent: When I am not at Fit Crew I really just love being at home with the family. We love being on the water doing just about anything. When my wife and I do get the opportunity to go on a date, it revolves around food. We love food.
Robin: When I'm not training, I love spending time with our family–going out on the boat is our favorite thing to do together. I also enjoy date nights with Brent–with 4 kids we seem to need them more often. Going out to eat is our favorite, we like to eat.
Tell us a fun fact that we might not already know about you.
Brent: A fun fact you may not know about me is the older I have gotten the more I have figured out that I am an introvert. You might have never figured this out by watching me in a crowd, but after any social gathering, I am pretty exhausted.
Robin: A fun fact that you might not know about me is that I spend every Thursday night with pregnant and teen moms at Young Lives (a ministry of Young Life). I help watch and love on their babies while the moms can have a fun night of games, music, and hearing how deeply Jesus loves them. They get to have a few moments of just being teens. It's beautiful and messy and I love it.